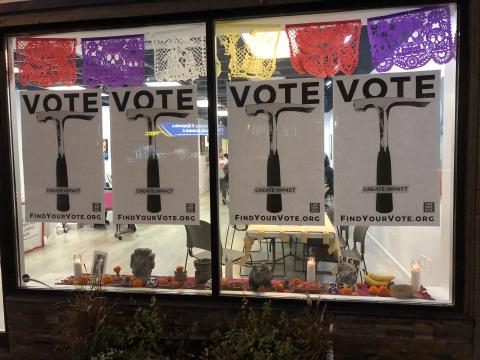 Tune in on Monday night November 5th starting at 7PM for specials WEQY recorded live throughout St. Paul. First up is It Takes a Village, a forum recorded at the High School for the Recording Arts in Frogtown this past Saturday. Put together by the local group, Individuals with Dreams (IWD), the event brought together three keynote speakers: Elizer Darris, Anika Bowie, and Rena Moran. We'll listen to all three speaking about the importance of voting, the history of the Black vote in the US, and the power of voting to make real change.
Stick around at 8:30 for Rock the Vote recorded live at Caydence Records and Coffee on Payne Avenue right here on the East Side. DJ Michael Warre, whose show Minnesota Music Warrehouse airs on WEQY each Thursday from 8-10, spins relevant rock tunes as well as an appearance by a local Boy Scout troup and a ton of info about what appears on Minnesota ballots this November 6th.
If you miss them tonight, don't fret, we'll be playing them again on Tuesday. Stay tuned for the exact times. And go to http://weqy.org/vote to get all the info you need for election day and to pledge to vote!