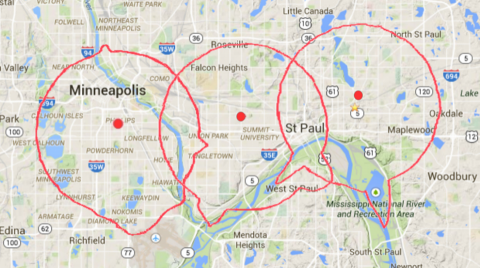 If you talk to a DJ, volunteer or staff person involved with gettting WEQY on the air, creating programming or just advocating for equity on the airwaves here on the East Side of St. Paul, you're likely to hear the term "low-power FM" (LPFM for short).  What exactly is this?  Well, technically speaking, WEQY itself is broadcasting its signal on a dedicated frequency on the FM band and that signal is pushed out at a very low wattage power in comparison to local commercial FM stations.  But LPFM is more than a technical designation, it's a movement of sorts to provide voice to those shut out of commercial, corporate media.
To get a better picture of this, check out the low-power FM online fact sheet published by the Future of Music Coalition (click on the link below).  It lays out the need for proactively diversifying what's available on the air:
"As the radio marketplace consolidates, what we hear on the airwaves is increasingly homogenized. Massive media organizations are focused on attracting the broadest audiences possible, gearing programming to the demographic groups that are most appealing to advertisers. As a result, programming that reflects local community interests and niche genres has largely disappeared."
This is the basis for opening up unused frequencies on the FM dial to community groups like the ones that came together to help the Dayton's Bluff Community Council apply for and receive a license to create and run WEQY.  The call, the opportunity, the challenge, the opportunity and what WEQY is proudly endeavoring to do is to creat and broadcast community-based programming that not only plays local music but talks about issues impacting our local community. This station was founded on the principle of equity; of building a space to center marginalized voices. We are sparking dialogues and building connections through our playlists and our process.
To learn more about low-power FM and how it is rolling out across the United States, click below to read the short Future Music Coalition fact sheet (the excerpt above is included there).
And, give WEQY 104.7 a listen, hear points of view, music and voices that are missing everywhere, yes, everywhere else on the dial.  Be a part of this movement happening right in your neighborhood and make your voices heard as well.